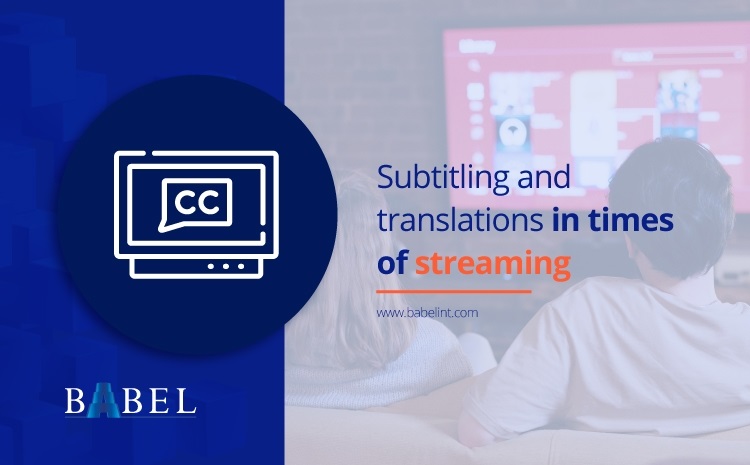 Subtitling and translation in times of streaming
Streaming services have revolutionized the world of  translation, dubbing and subtitling and in Mexico alone it is estimated over 47 million people subscribe to a streaming service.
Global figures also demonstrate accelerated growth. A clear example is Netflix, with revenue of almost 25 billion dollars worldwide in 2020.
¿ How does this impact subtitling and translation?
The growth of streaming platforms has facilitated our access to content from all over the world in a range of different languages (movies, series, podcasts, vlogs, etc.). Taking Netflix as our example again, the number of series from Asian (Korea, Japan, Turkey), European (France, Norway, Sweden, Italy) and African (Nigeria) countries transmitted in 2019 and 2020 has forced the streaming giant to engage its subtitling and translation capacity to the full.
What's more, translators have discovered a rich seam of work in this niche, which also poses challenges of its own. While the work of agencies and freelance translators has usually been good, such large and urgent volumes of content for subtitling inevitably leads to errors.
A simple example of this is the popular Netflix series Dark. During the second season (episode one), when the grave of Jonas' father (Jonas is the main character) is shown, the tombstone shows he died in 2019 while the subtitles indicate 2020.
This mistake may seem simple and even unimportant, but in a plot as complex as Dark where time travel and dates are narrative cornerstones, this kind of mistake could cause major confusion for viewers.
Tight deadlines are another challenge translation services face with streaming content. In an interview with digital publication Xataca, translator Herminia Páez stated: "For dubbing, Netflix may ask you to submit two or three episodes a week, or you may be lucky, they may only have one episode a week. When it comes to subtitling things are different; you might have a week or just two days because the material arrived late and they have taken a long time to prepare the subtitling template, which are subtitles synchronized with the English script."
The importance of confidentiality
One of the major problems with streaming platforms is content leaks (digital piracy), which can lead to major losses.
HBO experienced significant problems when its leading series Game of Thrones became the most pirated series in history in 2019.
For streaming companies, confidentiality and information security are essential when contracting a translation and subtitling service, since in most cases translators have access to unpublished scripts that require extremely careful handling.
Industry challenges
While it is clear translation services have found a significant opportunity in streaming services, they also face major challenges.
For the current decade, the main challenges are clear:
A multicultural focus allowing translators to work with content for the entire world.
Well-defined work processes that help ensure confidentiality of customer content.
Quick submissions to meet customer deadlines.
If you are looking for quick and trustworthy translation services focused on the success of your business, here is where you will find the perfect solution: