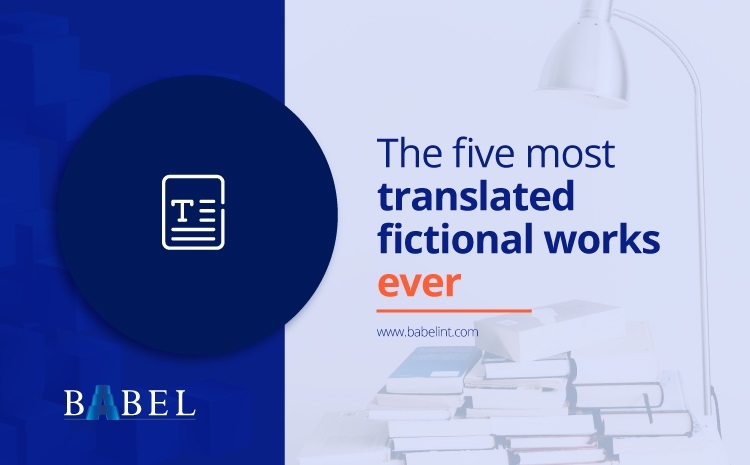 The five most translated fictional works ever
"I wonder," he said, "whether the stars are set alight in heaven so that one day each one of us may find his own again."  (The Little Prince)
How many wonderful phrases, ideas and sentiments would we have missed out on without the translation profession? As José Saramago once said, "Writers make national literature, while translators make universal literature."
While we all know the Bible is the most translated book ever, what about those great novels that have helped us understand the world and the universe from multiple perspectives? In this weekly Babel blog, we share a list of the five most translated fictional works of all time according to the website Fundación Universia.
5. Twenty Thousand Leagues Under the Sea
Our list begins with a classic written over 150 years ago. This timeless adventure novel by Jules Verne has influenced such famous writers as Ray Bradbury and Arthur Rimbaud. The tale of Captain Nemo (inspiration for Pixar's clownfish) has been translated into 140 languages and is one of the most important and widely read books in history. In fact, its impact on literature is so monumental that it has been called an "eternal best-seller." Twenty Thousand Leagues Under the Sea has reached every continent and the number of translations continues to grow.
4. Hans Christian Andersen's Fairy Tales
Fourth place goes to an anthology from the king of fairy tales, the great Dane, Hans Christian Andersen. His Fairy Tales have been translated into 150 languages and are an endless source for animated movies. Just ask Disney. Do any of these titles sound familiar: The Little Mermaid, Thumbelina, The Emperor's New Clothes or Frozen?
3. Alice in Wonderland:
Incredible as it may seem, this eminently psychedelic and peculiar tale has been read in most corners of the globe. And even though the Disney adaptation presented Lewis Carrol's book as a children's story, Alice in Wonderland is in fact very much an adult and critical story. To date, Alice in Wonderland has been translated into 174 languages and is one of the most frequently adapted books for the screen.
It has had such a major influence on world culture that a disorder has been named in its honor: the Alice in Wonderland Syndrome is a neurological disorder that distorts visual perception causing things to appear much smaller and further away than they really are.
2. The Adventures of Pinocchio
A decade ago, this story by Carlo Collodi held first place as the most translated book ever. Written originally in Italian, The Adventures of Pinocchio has been translated into 260 languages.
Most of us are familiar with the story of the wooden puppet who comes to life, but very few are aware of the fierce criticism behind this Italian work of literature. Pinocchio is one of the most notorious cases of stories that have been nuanced, lightened and – why not say it? – made likeable by Disney. The original story presents Pinocchio as a cruel and willful child, nothing like the innocent and manipulable little boy portrayed in the 1940 animated feature.
Another interesting fact is that the name Pinocchio literally means wooden eye from Italian words pino (pine), and occhio (eye).
The Little Prince
Has any work of fiction been quoted, referenced and loved as much in human history? This story, written in French by Antoine de Saint-Exupéry and published in 1943, has been translated into 430 languages. The fact that The Little Prince is a short story, timeless and appropriate for any age, has undoubtedly helped bring this book international success with sales of 140 million copies. The original manuscript of The Little Prince can be found in the Pierpont Morgan Library in New York, and its first translation into Spanish dates from 1951 by a publisher in Argentina.
In case anyone doubts the importance of The Little Prince to world culture, Saint-Exupéry's work has been adapted on countless occasions: for film, television and even a 35-episode anime series.
Literary Translation requires impeccable technical skills and sensitivity. Translating a text for a specific language and country without losing the writer's artistic intent is one of the most complicated tasks in the translation world. This is why Babel works only with the very best. So if you are looking for a professional agency to translate literary, corporate or legal texts, we have the solution you are looking for.